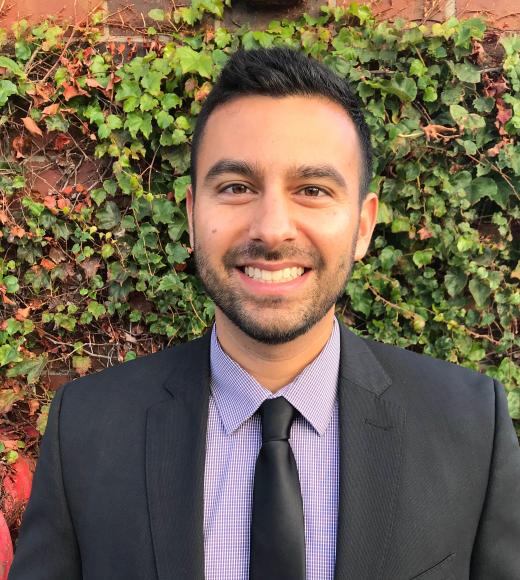 Office Hours
Fall 2022
Wednesdays 2:00-4:00 p.m. and by appointment
Office hours sign-up: see link above
Bio
Education
Ph.D.   Critical Studies of Race, Class, and Gender Program, Graduate School of Education, University of California, Berkeley Designated Emphasis in Women, Gender, & Sexuality
M.A.    Social and Cultural Studies, Graduate School of Education, University of California, Berkeley
B.A.     Ethnic Studies, University of California, Berkeley
 
Research areas and interests
Urban schooling, the political economy of race and education, neoliberal multiculturalism, Latino masculinity, intersectionality, Latino male teachers, critical and abolitionist pedagogy
 
About
Michael Singh is an assistant professor in the Department of Chicana/o/x Studies at UC Davis. He received his Ph.D. in Education from UC Berkeley in 2019 and was later a UC President's Postdoctoral Fellow in the Department of Chicana/o/x Studies at UC Santa Barbara. Dr. Singh's scholarship explores the intersectional politics of race and neoliberalism in urban education, specifically with a focus on Latino men and boys. His research has three interrelated strands: 1) Ethnographic explorations of Latino manhood amidst neoliberal framings of race and urban schooling, 2) The professional experiences and pedagogical practices of Latino male educators, 3) Everyday refusals and queer disruptions among Latino men and boys. Overall, Dr. Singh's work provides a timely addition to the growing research on boys and young men of color and calls for intersectional and justice-centered approaches to Latino male education.
Dr. Singh is currently writing his first book manuscript. Tentatively titled, Un Buen Ejemplo: Race, Education, and the Intersectional Politics of Mentoring Latino Boys, this book comes from two years of ethnographic research with a school-based mentorship program. It examines the ways converging (neoliberal) discourses of race, gender, class, and sexuality influence how Latino male empowerment programs (re)imagine the role of Latino male youth workers, who are positioned as positive role models in the lives of their students. Dr. Singh is also in the process of beginning his second research project. This study uses the qualitative research method of testimonio to examine the ways race, gender, and sexuality shape the lives and teaching practices of Latino men who are K-12 teachers.
Michael was born and raised in Woodland, California and is third and fourth generation Mexican American/Xicano. He is committed to the goals and dreams of ethnic studies and Chicana/o/x studies.
Selected Publications
Singh, M. V. (2020). Resisting the neoliberal role model: Latino male mentors' perspectives on the intersectional politics of role modeling. American Educational Research Journal, 0002831220954861. https://doi.org/10.3102/0002831220954861
Singh, M. V. (2020). Neoliberal influence on Latino male identity: Power and resistance in a school-based mentorship program for Latino boys. International Journal of Qualitative Studies in Education, 0(0), 1–17. https://doi.org/10.1080/09518398.2020.1829739
Singh, M. V. (2019). Refusing the performance: Disrupting popular discourses surrounding Latino male teachers and the possibility of disidentification. Educational Studies, 55(1), 28–45. (Awarded 2019 Best Paper Award from the American Educational Studies Association)          
Singh, M. V. (2018). Role models without guarantees: Corrective representations and the cultural politics of a Latino male teacher in the borderlands. Race Ethnicity and Education, 21(3), 288–305.
Singh, M. (2017). Decolonization as utopia and the potentiality of Ethnic Studies: Beyond neoliberalism and the settler state. In A. Rodriguez & K. R. Magill (Eds.), Imagining education: Beyond the logic of global neoliberal capitalism (p. 87–105). Charlotte, NC: Information Age Publishing.
Leonardo, Z., & Singh, M. (2017). Fanon, education, and the fact of coloniality. In S. Parker, K. Gulson, & T. Gale (eds), Policy and Inequality in Education (p. 91-110). Singapore: Springer.
 
Awards
Semifinalist—Outstanding Dissertation Award, Critical Educators for Social Justice (CESJ)
Special Interest Group, American Educational Research Association (AERA), 2020
2019 Best Paper Award, Educational Studies, American Educational Studies Association (AESA)
Postdoctoral Fellowship, UC President's Postdoctoral Fellowship Program, 2019-20.
Dissertation Fellowship, National Academy of Education/Spencer Foundation, 2018-19.
Graduate Fellow, Institute for the Study of Societal Issues, UC Berkeley, 2017-19.
Graduate Scholar, Project MALES, UT Austin. 2018-19
Graduate Fellow, Faculty First-Look Program, NYU Steinhardt, 2017-18.
Doctoral Research Grant, Center for Race and Gender, UC Berkeley, 2017-18.
Chancellor's Fellow, UC Berkeley, 2013-17.                                       
McNair Scholar, Ronald E. McNair Scholars Program, UC Berkeley, 2011.