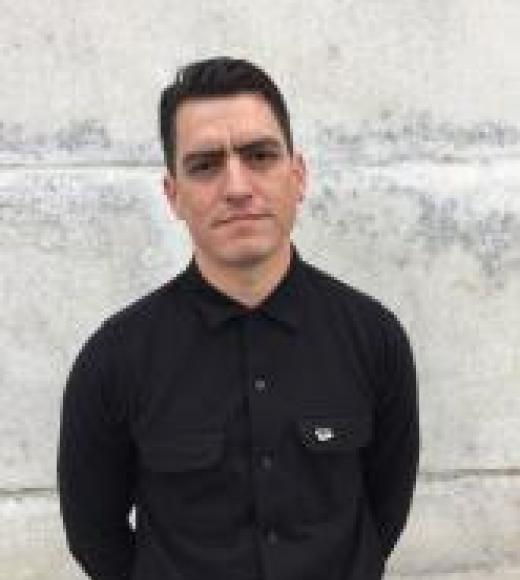 Bio
Education
-Art Studio, M.F.A., UC Davis
-Community and Regional Development, B.S., UC Davis
Research interests areas
The Social and Decolonial Turn in Contemporary Art Practice. Chicana/o Art and its origins and contemporary manifestations. Theoretical foundations of Chicana/o Studies. Pedagogy and community engagement strategies for Chicana/o Studies curriculum. 

About
Carlos Jackson, a visual artist and writer, was born and raised in Los Angeles, California. He attended the University of California, Davis where he received his Bachelor of Science in Community and Regional Development and an M.F.A. in Painting, and was awarded the Robert Arneson Award for excellence in the M.F.A. program. In 2002 he was awarded a full fellowship to attend the Skowhegan School of Painting and Sculpture in central Maine. For the 2003-2004 year he held the David Shainberg Endowed Fellowship at the Fine Arts Work Center in Provincetown, MA. Between 2004-2015 he served as Founding Director of Taller Arte del Nuevo Amanecer. Currently, he is an Associate Professor and Chair of the Chicana/o Studies Department.
In the past five years he had numerous group and solo exhibitions throughout the United States. In 2009 he published a book on the history of the Chicana/o Art Movement with the University of Arizona Press titled Chicana and Chicano Art: ProtestArte. In 2011 the University of Illinois, Springfield published a catalog on his artwork titled Mi América/My America: Carlos Jackson and in 2012 he was a featured artist and essayist in the exhibition catalog Estampas de la Raza published by the University of Texas Press.
Selected Publications
-Chicana and Chicano Art: ProtestArte, University of Arizona Press, 2009: http://www.uapress.arizona.edu/Books/bid2079.htm
-Artist Catalog published by the University of Illinois, Springfield titled Mi América/My America: Carlos Jackson, 2011
-Featured artist and essayist in the exhibition catalog Estampas de la Raza: Prints of the People, University of Texas Press, 2013: http://utpress.utexas.edu/index.php/books/wilest
- Carlos Francisco Jackson. Serigrafia: A Reflection. Boom, 4(1): http://www.boomcalifornia.com/2014/04/serigrafia/
Awards
-Robert Arneson Award for Excellence, 2003 UC Davis
-Full Fellowship, Skowhegan School of Painting and Sculpture, 2002
-Davis Shainberg Endowed Fellowship at the Fine Arts Work Center in Provincetown, MA, 2003-2004
-UC Davis Hellman Fellowship, 2009
-1st Place for Best Reference Book-English, Chicana and Chicano Art: ProtestArte. Awarded by the International Latino Book Awards. Presented by Latino Literacy Now, 2010
-Pima Southwest Books of Year Award for the "Estampas de la Raza" Catalog, 2012
-International Fine Print Dealers Association Book Award to "Estsampas de la Raza" Catalog, 2013
-2015-2020 Chancellor's Fellow, UC Davis